Home > Product Information > Fluororesin insulated extreme thin thermocouple Fineflex ®

Fineflex® is ultra fine thermocouple of that measurement accuracy is secured, covered with ultra thin Fluororesin. Fineflex is duplex type thermocouple that has excellent flexibility and high transparency.
Fluororesin covered ultra fine thermocouple of that contact points of temperature measurement is molded is excellent with chemical resistance and insulation feature.


We have two type of Fineflex®, the mold type and reel type in stock. We are ready to supply.
Feathers of Fineflex®
Due to Fluororesin covered ultra fine thermocouple, it has small heat contact capacity and excellent heat response.

Due to finished up outer diamemter is thin and high transparency, it can measure the tempature of complex structure part and minute area correctly.
Fineflex® has a breaking feature that is stable from -200c to +200c.
Fineflex® is difficult to be attached with the different staffs and has endurance against rubbing strength on a comparison with fused enamel as much as twenty times.
Classifiations and Standards
Table-12 Classifications and Standards
Classifications
Insulated type
Insulator type
Core wire materials
Linear diameter(mm)
Heat electromotive force(mV)
Standard point of contacting 0℃
+side core
-side core
+side core
−side core
100℃
218℃
K
Clear
Green
White
*1Chronic
*1Alunic
0.05
0.07
0.1
0.2
4.096±0.062
(±1.5℃)
8.860±0.060
(±1.5℃)
T
Clear
Brown
White
Copper
Copper-Nickel Alloy
4.279±0.023
(±0.5℃)
10.254±0.047
(±0.87℃)
*1 Chronic and Alnich are our registration trademarks of Chromel and Almel.
Insulated thermocouple electromotive force graph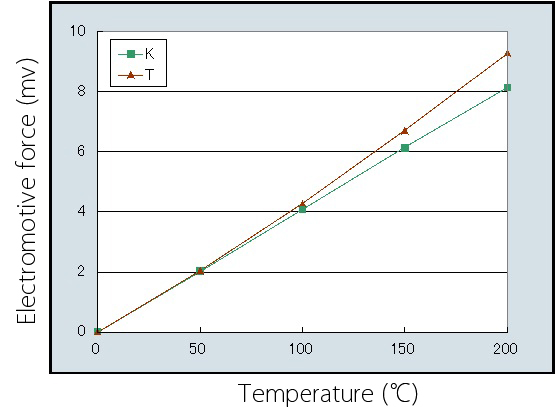 Graph − 3
The classifications and lengths
| | | |
| --- | --- | --- |
| Mold type | Terminal processing | Reel type |
Table-13 The classifications and lengths
No.
Classifications
Standard product
Terminal processing
Bare wire diameter
(mm)
Standard dimensions
(mm)
Insulation, Protection insulation
Materials
Highest temperature used for insulation ℃
1
Mold
0.05
0.07
0.10
0.20
0.45x0.7
0.47x0.74
0.5x0.8
0.6x1.0
FEP
200℃
K
NFX - F-A-C-
Yes
T
NFX - F-A-D-
No
2
Not mold
K
NFX - F-B-C-
Yes
T
NFX - F-B-D-
No
3
Reel type
K
NFX - F-
No
T
Explanation of each symbol